A drive thru the City of Waltham today revealed a vibrancy and economic resurgence that is exciting to watch take place! Construction activity abounds with new office buildings and apartment buildings being completed in a wave of 2014-2015 new construction. Most obvious is the redevelopment of the Polaroid Site just off of Rt. 117. This site has almost one mile of direct frontage onto Rt. 128. It is becoming a new home to a massive mixed use retail/office development that is transforming the landscape along Rt. 128 – America's Technology Highway. The site has over 100 acres and it is approved for 1.2 million sq. ft. of new office/retail/residential development.
Boston Properties has under construction a 120,000 sq. ft. 4-story building at 1265 Main Street and it is already pre-leased by Clarks America. Clarks is relocating from Newton Upper Falls and will have 400 employees working in this building by early 2016. The building will have a roof deck, private outdoor terrace of 5,000 sq. ft., an employee store and a new fitness center. Over 400,000 cars will drive by the front of this building every day.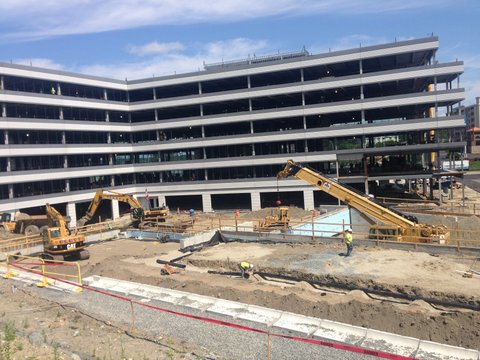 Less than a mile from the Polaroid site, Boston Properties is completing a new mixed use 230,000 sq ft. project at 10 City Point (Totten Pond Road & Winter Street). Wolverine Worldwide (parent of Stride Rite and others) has signed up for 150,000 sq ft. to kick off the 230,000 sq ft. project that will include retail plus the office component. The retail tenants will start off with a new Posto restaurant (from Davis Square) and Bone Fresh Grill.
At Hobbs Brook Park on Wyman Street the finishing touches are being put on the 275 Wyman Street redevelopment project. This redevelopment is the result of taking a 80,000 sq ft. older office building site to a brand new LEED Certified 315,000 office building plus a 1,025 space parking garage. VistaPrint will be moving into 150,000 sq ft. of office space by the end of this year. Nice Work, Hobbs Brook!
Stay tuned for more news from the exciting City of Waltham!